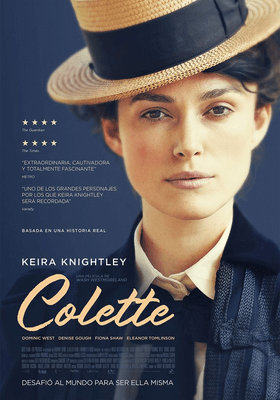 Duration

MPAA

M12

Genre
Production

United Kingdom, 2018

Release Date

Nov 16, 2018

Director

Actors
"Wash Westmoreland (Siempre Alice) dirige COLETTE, película que sigue la vida de la escritora Sidonie-Gabrielle Colette, con un guion que ha co-escrito junto a Richard Glatzer (La última aventura de Robin Hood). La actriz nominada al Oscar Keira Knightley (Saga Piratas del Caribe, Orgullo y Prejuicio) da vida a la artista francesa y el nominado a dos Globos de Oro Dominic West ("The Wire", The Square) interpreta a su marido. Sidonie-Gabrielle Colette alcanzó fama internacional gracias a la publicación de Gigi, la novela que fue llevada al cine en 1958 por Vincente Minnelli. Novelista, guionista, periodista y artista de revistas y cabaré, esta mujer francesa llegó a presidir la Academia Goncourt entre 1949 y 1954, fue condecorada con la Legión de Honor y es la única escritora francesa que ha recibido un funeral de estado. Colette es posiblemente una de las escritoras francesas más importantes e innovadoras del siglo XX, y sus docenas de volúmenes de ficción provocativa, memorias, periodismo y dramaturgia sacudieron las restricciones sociales impuestas a las mujeres. El escritor y director Wash Westmoreland cuenta la historia del despertar creativo de esta artista en París, un lugar tan dinámico y moderno como lo era ella." Colette, una mujer inconformista criada en un entorno rural, se casa con el carismático y egocéntrico intelectual Willy (Dominic West). Willy introduce a Colette en la bohemia del París de principios del siglo XX y le pide que escriba novelas basadas en su experiencia, que serán publicadas bajo el nombre de su marido. Cuando la saga de novelas Claudine le catapulta al estrellato, Colette se enfrentará Willy para reclamar los derechos de su obra y su propia libertad personal.
All shows of Colette in Barberà del Vallès, Barcelona
Currently no data available.