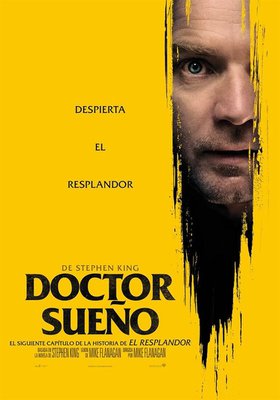 "Doctor Sueño" es la continuación de la historia de Danny Torrance 40 años después de su aterradora estancia en el Hotel Overlook en El Resplandor. Ewan McGregor, Rebecca Ferguson y la debutante Kyliegh Curran protagonizan este thriller sobrenatural, dirigido por Mike Flanagan, a partir de su propio guión basado en la novela de Stephen King. Dan Torrance lucha por encontrar algo de paz a pesar de seguir irremediablemente marcado por el trauma que sufrió de niño en el Hotel Overlook. Pero esa paz se quiebra cuando conoce a Abra, una valiente adolescente dotada de un poderoso don extrasensorial, conocido como el "resplandor". Abra reconoce instintivamente que Dan comparte su poder y, desesperada, le pide ayuda para enfrentarse a la despiadada Rose the Hat y a sus seguidores, The True Knot, que se alimentan de los niños que poseen el don del resplandor en su búsqueda de la inmortalidad. Dan y Abra forman una extraña alianza y emprenden una batalla a vida o muerte contra Rose. La inocencia de Abra y su valor a la hora de aceptar su resplandor obligan a Dan a recurrir a sus propios poderes como no lo había hecho nunca. Deberá enfrentarse a sus miedos a la vez que revive los fantasmas del pasado.
All shows of Doctor Sueño in Tegueste, Santa Cruz de Tenerife
Currently no data available.