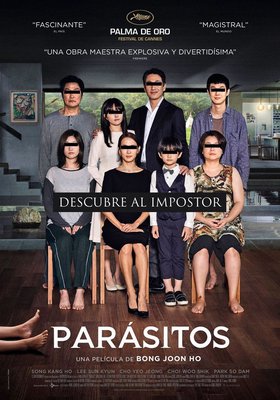 Duration

ICAA

16

Genre
Production

South Korea, 2019

Release Date

Oct 25, 2019

Original Title

Parasite

Director

Actors
Toda la familia de Ki-taek está en el paro y se interesa mucho por el tren de vida de la riquísima familia Park. Un día, su hijo logra que le recomienden para dar clases particulares de inglés en casa de los Park. Es el comienzo de un engranaje incontrolable, del cual nadie saldrá realmente indemne. Palma de Oro del festival de Cannes 2019 por unanimidad del jurado, la nueva película del director coreano Bong Joon ho (Memories of murder, Mother, Snowpiercer) se ha convertido en un fenómeno de crítica y público allí donde se ha estrenado. Arrasando en el box office de Francia con más de 1.000.000 de entradas vendidas, favorita de la crítica internacional en los festivales donde ha participado, PARÁSITOS es, sin lugar a dudas, una de las películas más importantes del año y posiblemente de la década.
All shows of Parásitos in Torrent, Valencia/València
Currently no data available.