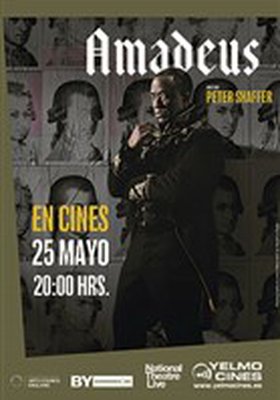 Duration

ICAA

PDC

Genre
Production

2017

Release Date

May 25, 2017
Música. Poder. Celos. Lucian Msamati (Luther, Game of Thrones – Juego de Tronos, NT Live: The Comedy of Errors – La comedia de las equivocaciones) interpreta a Salieri en la icónica obra de Peter Shaffer, en directo desde el National Theatre (Londres), con acompañamiento en directo por parte de la orquesta Southbank Sinfonia. Wolfgang Amadeus Mozart, un escandaloso joven prodigio, llega a Viena, la capital musical del mundo, decidido a hacer ruido. Sobrecogido por su genio, el compositor de la corte Antonio Salieri tiene poder para promover su talento o destruir su nombre. Atrapado por unos celos obsesivos, empieza una guerra con Mozart, con la música y finalmente, con Dios. Tras ganar varios premios Olivier y Tony en su estreno en el National Theatre en 1979, Amadeus fue adaptada en una película ganadora de premios Oscar de la Academia.
All shows of Amadeus NATIONAL THEATRE 2017
Currently no data available.