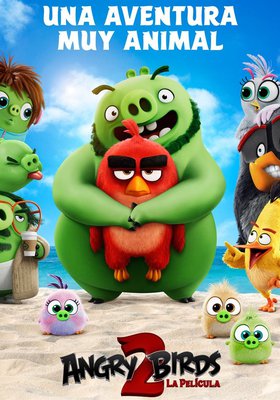 Duration

ICAA

APTA

Genre
Production

United States, 2019

Release Date

Aug 23, 2019

Original Title

The Angry Birds Movie 2

Actors
Vuelven a la carga Red, el pájaro de color rojo con problemas de mal genio, y sus amigos Chuck, el pájaro amarillo hiperactivo, y Bomb, el pájaro negro muy volátil. En esta segunda parte, los pájaros protagonistas y los intrigantes cerdos de color verde llevarán su conflicto a un nuevo nivel. Y es que, aparecerá una nueva y malvada villana: Zeta, un pájaro que vive en una isla helada. Cuando Zeta lance una bola de hielo sobre la isla en la que se encuentran Red y compañía, nuestros protagonistas tendrán que hacer frente a esta nueva amenaza. Secuela de la película animada Angry Birds: La película (2016) que está dirigida por Thurop Van Orman (The Marvelous Misadventures of Flapjack) y John Rice (Rick y Morty). Por su parte, Peter Ackerman (The Americans, Ice Age 3: El origen de los dinosaurios) firma el guión de esta secuela basada en el famoso videojuego para móviles desarrollado por Rovio Entertainment. El reparto de voces de la versión original lo forman Jason Sudeikis (Una vida a lo grande), Josh Gad (Tu mejor amigo: un nuevo viaje), Danny McBride (Alien: Covenant), Bill Hader (Barry), Peter Dinklage (Juego de tronos), Tiffany Haddish (Escuela para fracasados), Awkwafina (Ocean's 8), Sterling K. Brown (This Is Us) y la cantante Nicki Minaj. La película en su versión en castellano contará de nuevo con las voces de Santiago Segura, José Mota y Álex de la Iglesia.
All shows of Angry Birds 2: La Película
Currently no data available.