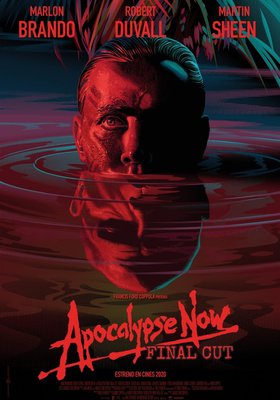 Duration

Edad

16

Genre
Production

United States, 1979

Release Date

Jul 3, 2020

Director

Actors
El próximo 3 de julio se estrena un nuevo montaje de la monumental Apocalypse Now: Final Cut, realizado por motivo de su 40 aniversario. Esta gran epopeya bélica, tan desbordante como destructiva, es una de las películas más ambiciosas y accidentadas de la historia del cine. Ahora regresa a los cines en 4K y con una versión que, según el propio director Francis Ford Coppola, es la mejor de todas. Un clásico que reunió al legendario Marlon Brando con Martin Sheen, Robert Duvall, Dennis Hopper y Harrison Ford incluye momentos tan memorables como la escena de los helicópteros sobrevolando la selva mientras suena The End de The Doors, o la de estos mismos instrumentos de guerra bombardeando desde lo alto un poblado vietnamita a ritmo de la apabullante Cabalgata de las Valkirias de Richard Wagner.
All shows of Apocalypse Now Final Cut VOSE
Currently no data available.