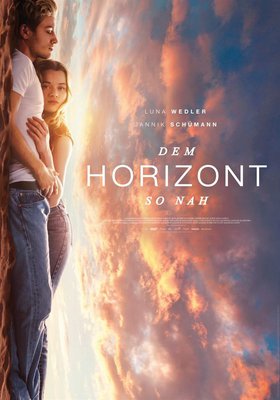 Duration

Recommended age

16

Genre
Production

Germany, 2019

Release Date

Jan 24, 2020

Original Title

Dem Horizont so nah

Director

Actors
"En "CERCA DEL HORIZONTE" el director Tim Trachte cuenta la historia real de la autora Jessica Koch, cuya primera novela se convirtió en un fenómeno en Alemania en 2016. Ariana Schröeder (Hin und Weg) se encarga de adaptar la novela para la gran pantalla. Luna Wedler (The most beautiful girl in the world) y Jannik Schümann (Die Mitte der Welt) interpretan a los dos personajes protagonistas. La novela "Close to the horizon" se publicó en 2019 en España bajo el nombre 'Tan cerca del horizonte' (Editorial Libros de Seda). La autora Jessica Koch escribe abiertamente sobre su propia experiencia rompiendo tabúes. La segunda parte ("Close to the abyss") y la tercera ("Close to the ocean") cierran la llamada trilogía "Danny"." Jessica es joven, disfruta de una vida sin complicaciones y tiene por delante un futuro prometedor. Una noche conoce a Danny, un chico que tiene todo con lo que ella sueña: es atractivo, tiene independencia y éxito. Fascinado por él, poco a poco irá descubriendo quién es en realidad tras esa fachada construida con tanto cuidado. En un mundo superficial que solo se fija en las apariencias, ambos tendrán que enfrentarse a los prejuicios, la exclusión y a emprender una carrera contra el tiempo.
All shows of Cerca del horizonte
Currently no data available.