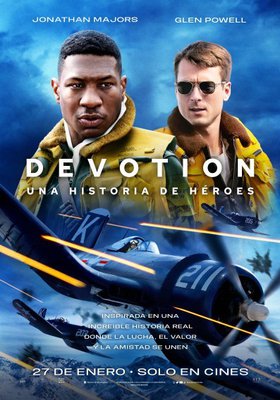 Duration

Recommended age

12

Genre
Production

United States, 2022

Release Date

Jan 27, 2023

Original Title

Devotion

Director

Actors
Llega a la gran pantalla esta nueva película bélica dirigida por J.D. Dillard a raíz de un guion creado por Jake Crane y Jonathan Stewart. El filme está basado en el libro "Devotion: An Epic Story of Heroism, Friendship and Sacrifice" de Adam Makos, basado a su vez en hechos reales (Guerra de Corea).
La cinta, con música de Chanda Dancy y fotografía de Erik Messerchmidt, fue estrenada en el Festival Internacional de Cine de Toronto.
Reparto:
Jonathan Majors, Glen Powell, Thomas Sadoski, Joe Jonas, Daren Kagasoff, Nick Hargrove, Christina Jackson, Spencer Neville, BettyLynn Allison, Julie Kessler, Serinda Swan y Joseph Cross.
Sinopsis:
1950. La Guerra Fría está amenazando con provocar el caos mundial y resquebrajar la paz internacional. En un escuadrón de élite americano, terminan siendo aceptados dos jóvenes pilotos que pertenecen a diferentes mundos: Tom Hudner, un soldado impecable y Jesse Brown, un piloto con un talento abismal que se convertirá en el primer afroamericano en combatir para la Marina de los Estados Unidos de América.
Jesse y Tom se inician juntos en el escuadrón VF-32, llegando a convertirse en los mejores pilotos de combate y en grandes amigos. El mundo los pondrá a prueba cuando uno de ellos sea derribado en plena batalla, dentro de las líneas enemigas.