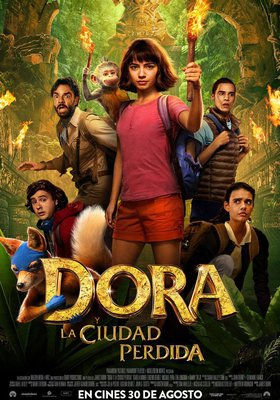 Duration

Edad

APTA

Genre
Production

United States, 2019

Release Date

Aug 30, 2019

Original Title

Dora and the Lost City of Gold

Director

Actors
Dora y la ciudad perdida, la película
Basada en
"Dora, la exploradora" de Nickelodeon
, llega a tu cine esta película estadounidense en formato live action (acción real), dirigida por
James Bobin
a partir de un guion escrito por
Matthew Robinson y Nicholas Stoller
.
Un filme de acción y aventuras para toda la familia, cuyo título original en inglés es "
Dora and the Lost City of Gold
", producido por
Nickelodeon Movies
y distribuido por
Paramount Pictures
.
Reparto:
Isabela Merced, Eugenio Derbez, Eva Longoria, Michael Peña, Jeffrey Wahlberg, Danny Trejo, Isela Vega, Temuera Morrison, Madeleine Madden, Micke Moreno, Adriana Barraza, Nicholas Coombe, Madelyn Miranda y Natasa Ristic
.
Sinopsis:
Dora ha pasado prácticamente toda su vida, desde que llegó al mundo, explorando la jungla con su familia. Nada podría haber preparado mejor a la joven para la aventura más peligrosa que jamás ha vivido… La que está por llegar: ¡El instituto!
No pasa demasiado tiempo, cuando Dora forma un nuevo equipo cuyos integrantes incluyen a su mejor amigo (un simpático mono) llamado Botas, un misterioso habitante de la jungla llamado Diego y un grupo de adolescentes un tanto peculiar. Juntos se embarcan en esta arriesgada aventura que tiene por objetivo salvar a sus padres y resolver un misterio que se encuentra oculto en una ciudad perdida de oro.
All shows of Dora y la ciudad perdida
Currently no data available.