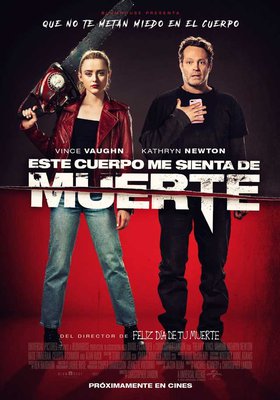 Este otoño prepárate para ESTE CUERPO ME SIENTA DE MUERTE, una retorcida versión del clásico cambio de cuerpos en la que una adolescente se intercambia con un implacable asesino en serie. Millie Kessler (Kathryn Newton, Blockers, Big Little Lies de HBO) tiene diecisiete años y es una adolescente más que trata de sobrevivir a los sangrientos pasillos de su instituto y a la crueldad de la multitud popular. Pero cuando The Butcher (Vince Vaughn), -el infame asesino de su ciudad que anda suelto- trata de asesinarla, todo cambiará para Millie y el curso al que se enfrentaba y tanto temía, pasará a ser la menor de sus preocupaciones.
All shows of Este cuerpo me sienta de muerte
Currently no data available.