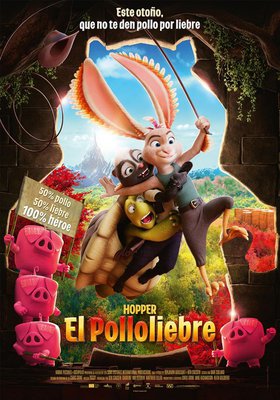 Duration

Recommended age

APTA

Genre
Production

Belgium, 2022

Release Date

Oct 28, 2022

Original Title

Chickenhare and the Hamster of Darkness

Director
Basada en las viñetas de Chris Grine
Esta nueva película para toda la familia dirigida por Ben Stassen y Benjamin Mousquet, tiene un guion creado por David Collard que se basa a su vez en las viñetas de Chris Grine ("Animorphs"), cómic llamado "Chickenhare and the Hamster of Darkness" y creado para Dark Horse Comics.
Sinopsis:
Hopper, el protagonista de la historia, es un animal antropomorfo, mitad pollo y mitad libre, que fue adoptado por el Rey Pedro. Es aventurero y famoso y desea con todas sus fuerzas ser aceptado, aun siendo diferente, por lo que decide emprender una emocionante aventura con su amigo y sirviente Abe, una tortuga bastante sarcástica y Meg, una intrépida mofeta con la que es mejor llevarse bien, pues es una experta en artes marciales.
Los tres emprenden su viaje y se enfrentan a un complicado reto para buscar la reliquia llamada Hámster de la Oscuridad y encontrarla antes que Lapin, un villano que se ha fugado de la cárcel y ha puesto en peligro la paz del reino.
All shows of Hopper, el polloliebre