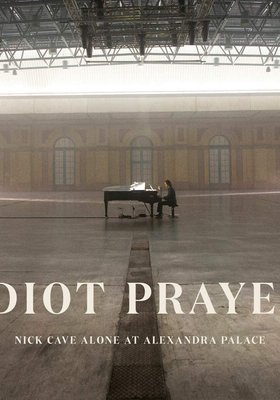 En Idiot Prayer - Nick Cave Alone at Alexandra Palace, Nick Cave interpreta sus canciones al piano sin acompañamiento, en un formato poco habitual, desde sus primeras composiciones para Bad Seeds y Griderman hasta el álbum más reciente de Nick Cave & the Bad Seeds, Ghosteen. Entre las canciones incluidas en la película se encuentran Into My Arms, The Mercy Seat, Higgs Boson Blues y Girl In Amber. Grabada en junio de 2020 con la intención de convertirse en un acontecimiento único online, ahora sus admiradores podrán ver en cines la versión extendida de la película, que cuenta con cuatro interpretaciones inéditas. Grabada cuando el Reino Unido salía poco a poco del confinamiento y concebida como una reacción al encierro y al aislamiento de los meses anteriores, Idiot Prayer es un souvenir procedente de un extraño y precario momento de nuestra historia. El premiado director de fotografía Robbie Ryan (La favorita, Historia de un matrimonio, American Honey) se encargó del rodaje en el impresionante West Hall del Alexandra Palace. La edición corre a cargo de Nick Emerson (Lady Macbeth, Emma, Greta) y Dom Monks firma la grabación musical.
All shows of Idiot Prayer: Nick Cave Alone at Alexandra Palace
Currently no data available.