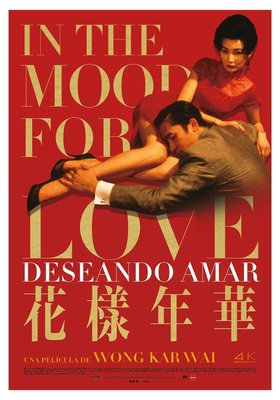 Duration

ICAA

12

Genre
Production

China, 2020

Release Date

Dec 30, 2020

Original Title

IN THE MOOD FOR LOVE

Director

Actors
Hong Kong, 1962. Chow, redactor jefe de un diario local, se muda a un nuevo piso con su mujer. Allí conoce a Li-zhen, una joven que acaba de instalarse en el mismo edificio con su esposo. Ella es secretaria de una empresa de exportación y su marido está continuamente de viaje de negocios. Como la mujer de Chow también está casi siempre fuera de casa, Li-zhen y Chow pasan cada vez más tiempo juntos y se hacen muy amigos. Un día, ambos descubren algo inesperado sobre sus respectivas parejas.
All shows of In the Mood for Love (Deseando amar)
Currently no data available.