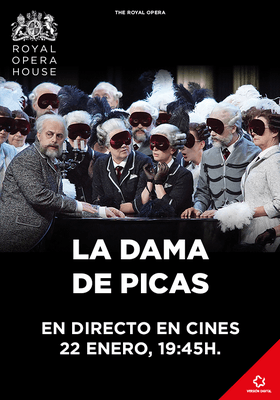 Duration

ICAA

APTA

Genre
Production

United Kingdom, 2019

Release Date

Jan 22, 2019

Original Title

La dama de picas

Director
En la intensa ópera de obsesión y elementos sobrenaturales de Tchaikovski, Gherman se encuentra atrapado entre la mujer que ama y una fijación destructiva. La Dama de Picas se basa en un relato breve de Pushkin y llega a la Royal Opera House en una nueva producción que ya ha obtenido reseñas con cinco estrellas en Ámsterdam. La producción está ambientada en 1890, el año del estreno de la ópera. En su estudio, Tchaikovski imagina que la ópera cobra vida como su propia historia, con sus personajes expresando sus deseos insatisfechos. Aleksandrs Antonenko y Eva-Maria Westbroek encabezan el reparto junto con el Royal Opera Chorus, todos dirigidos por Antonio Pappano, Director Musical de The Royal Opera. Se trata de un relato apasionante de un artista creativo torturado y un ejemplo irresistible de relato gótico.
All shows of La dama de picas. Royal Opera House
Currently no data available.