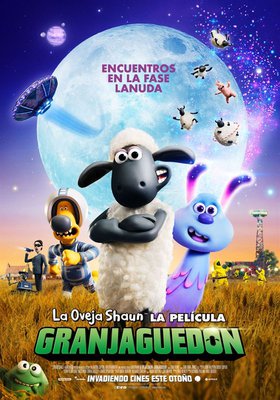 Duration

ICAA

APTA

Genre
Production

United Kingdom, 2019

Release Date

Oct 31, 2019

Original Title

Shaun the Sheep Movie Farmageddon

Director

Actors
Los estudios de animación Aardman y StudioCanal vuelven a aliarse, como ya hicieron con LA OVEJA SHAUN. LA PELÍCULA, dirigida por Mark Burton and Richard Starzak (con la que recaudaron más de 106 millones de dólares), y con la última aventura sobre el universo prehistórico de Nick Park, CAVERNÍCOLA. Esta vez la unión tiene por objetivo llevar a la gran pantalla una nueva aventura de La Oveja Shaun, la película: GRANJAGUEDON. El equipo comenzó a trabajar a principios de 2017 en la animación. Richard Phelan y Will Becher dirigen un guion escrito por Jon Brown y Mark Burton, y producido por Paul Kewley, con Mark Burton y Richard Starzak, Peter Lord, Nick Park y David Sproxton como productores ejecutivos. Su estreno en España está previsto el 31 de octubre de 2019.
All shows of La oveja Shaun. La película: Granjaguedón
Currently no data available.