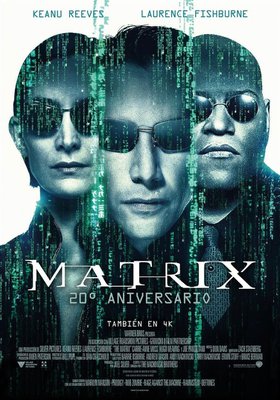 Duration

Recommended age

18

Genre
Production

United States, 1999

Release Date

Jun 28, 2019

Original Title

The Matrix 20th Anniversary

Director

Actors
La trilogía comienza con un hacker que aprende de los rebeldes misteriosos acerca de la verdadera naturaleza de su realidad y de su papel en la guerra contra sus controladores - y termina con la ciudad humana de Sión defendiéndose contra la invasión masiva de las máquinas, mientras Neo lucha para poner fin a la guerra. ANIMATRIX: de los creadores de la trilogía The Matrix, se trata de una innovadora colección de nueve cortometrajes de los siete directores de animé más importantes del mundo.
All shows of Matrix - 20 Aniversario
Currently no data available.