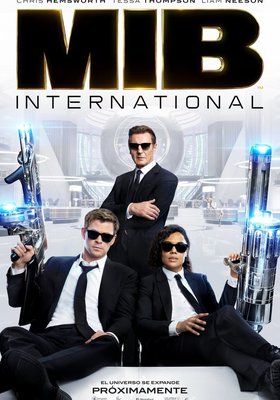 Duration

Edad

7

Genre
Production

United States, 2019

Release Date

Jun 14, 2019

Director

Actors
Relanzamiento de la saga, pero esta vez sin Will Smith y Tommy Lee Jones, que sigue explorando el universo 'Men in Black'. Los hombres de negro siempre han velado por nuestro planeta, protegiéndolo de los criminales del espacio exterior, pero en esta ocasión, los miembros de la organización tendrán que encontrar y localizar a un intruso dentro de sus propias filas. Para esta misión se unirán el Agente M y el Agente H. Dirigida por F. Gary. Gray ('The Italian Job') y protagonizada por Chris Hemsworth ('Thor: Ragnarok') y Tessa Thompson ('Sorry to bother you') como nuevas caras. Liam Neeson ('Infierno Blanco'), Rebecca Ferguson ('Cuando cae la nieve') y Emma Thompson ('Al encuentro de Mr. Banks'), repitiendo su papel de 'Men in Black 3', también están en el reparto, entre otros.
All shows of Men in Black International
Currently no data available.