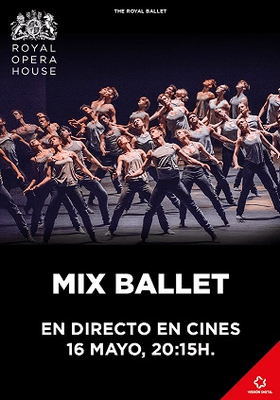 Duration

ICAA

APTA

Genre
Production

United Kingdom

Release Date

May 16, 2019
La cara contemporánea de The Royal Ballet se muestra en obras de tres de los principales coreógrafos de hoy. Wheeldon Within the Golden Hour se basa en siete parejas que se separan y se mezclan, con música de Vivaldi y Bossi e iluminadas con los ricos colores sugeridos por el atardecer. El patrón de vuelo de Pite, revivido por primera vez, utiliza la música familiar de Górecki y un gran conjunto de baile para una reflexión conmovedora y apasionada sobre la migración. Entre ellos, un nuevo trabajo creado en The Royal Ballet por el aclamado coreógrafo Sidi Larbi Cherkaoui se estrena para poner al día lo contemporáneo de verdad.
BALLET WITHIN THE GOLDEN HOUR, NEW SIDI LARBI CHERKAOUI, FLIGHT PATTERN
All shows of Mix Ballet. Royal Ballet
Currently no data available.