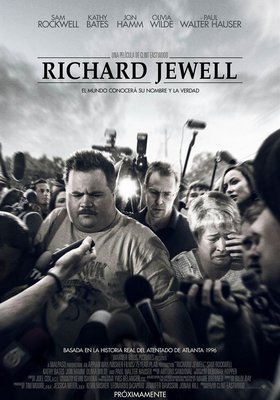 Richard Jewell está dirigida por Clint Eastwood y basada en hechos reales y cuenta lo que ocurre cuando una noticia falsa publicada en los medios oculta la verdad. "Hay una bomba en Centennial Park. Tienen treinta minutos". Richard Jewell es el guardia de seguridad que informa de haber encontrado el dispositivo del atentado terrorista que tuvo lugar en los Juegos Olímpicos de Atlanta de 1996; su informe lo convierte en un héroe ya que su reacción rápida permite salvar muchísimas vidas. Pero en cuestión de días, el aspirante a policía se convierte en el sospechoso número uno del FBI. Vilipendiado por la prensa y la gente por igual, su vida queda destrozada. Jewell contacta con el abogado independiente y anti-establishment Watson Bryant y le confiesa que es absolutamente inocente. Pero Bryant descubre lo difícil que es luchar contra el poder del FBI, del GBI (Georgia Bureau of Investigation) y del APD (Atlanta Police Department) para limpiar el nombre de su cliente. Además, debe evitar que Richard confíe en las personas que intentan destruirlo.
All shows of Richard Jewell
Currently no data available.