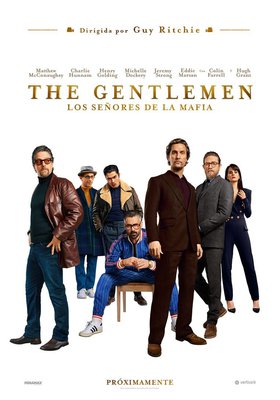 SINOPSIS Sofisticada comedia de acción repleta de estrellas. THE GENTLEMEN: LOS SEÑORES DE LA MAFIA, supone el esperadísimo regreso de Guy Ritchie. El director británico vuelve a sus orígenes siguiendo la senda de sus célebres Snatch. Cerdos y diamantes o Lock & Stock, profundizando en la historia de Mickey Pearson (Matthew McConaughey) un expatriado hombre de negocios, que ha triunfado en Londres, gracias al tráfico de drogas. Ahora quiere vender su imperio valorado en miles de millones, pero ninguno de sus clientes se lo pondrá nada fácil. Esto desencadena diferentes tramas en las que se implican organizaciones rusas, la mafia china e incluso un periodista que se convierte en un extorsionador. Sobornos y chantajes en un intento de robarle todo su imperio. Colin Farrell, Hugh Grant, Henry Golding, Charlie Hunnam, Michelle Dockery, Jeremy Strong y Eddie Marsan completan un reparto de lujo.
All shows of The Gentlemen: Los señores de la mafia
Currently no data available.