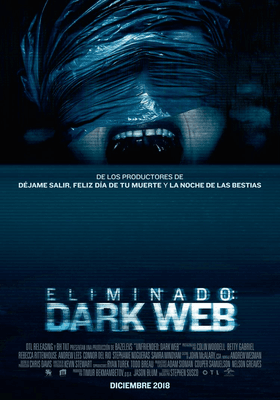 Duration

MPAA

M16

Genre
Production

United States, 2018

Release Date

Dec 28, 2018

Original Title

Unfriended: Dark Web

Director

Actors
El productor Jason Blum, responsable de éxitos como Déjame salir, Feliz día de tu muerte y The Purge: La noche de las bestias y Eliminado vuelve con la película más aterradora hasta la fecha: UNFRIENDED: DARK WEB, una historia contada en tiempo real. Cuando un chico se compra un nuevo portátil, descubre en él toda una serie de archivos escondidos y se los enseña a sus amigos en un chat on line, sumergiéndoles a todos involuntariamente en la "dark web", un lugar virtual oculto destinado a todo tipo de actividades criminales. Pronto descubren que alguien les observa y que es capaz de cualquier cosa con tal de proteger la "dark web" y el anonimato de todos sus usuarios.
All shows of Eliminado: Dark Web in Valencia, Valencia/València
Currently no data available.